For decades we've used a study series two of us created in 1985 for our evangelism work in Brazil. The first lesson starts with the subject of the Bible.
The series has several good features, such as simplicity — we use a 3×5 (or 4×6) index card and write out the references and key words as we go. We also don't jump around the Bible, but each study moves forward from one text to another.
At the end of each study is a two-part application. The first part deals with the student's acceptance of the truth presented. The second part suggests how the student ought to put that truth into practice.
Below is the first part of the Scripture study, from the Old Testament. A short description gives an idea of the main point of each text. We usually give a very brief idea of what's in each Bible book as we move forward. The second part covers the New Testament.
Title: THE SCRIPTURES—OUR AUTHORITY AND POWER
Thesis: The Scriptures are our authority on spiritual matters and our power to change ourselves and others.
Genesis 1.1-3ff — POWER
God said it and it happened. Both his spoken word and his written word are powerful. He has the power to transform our lives and the authority to determine what we should do.
Deuteronomy 4.1-2 — RESPECT
We must neither add to the word of God nor take away from it. We must respect the Bible exactly as it is. In the same way that remaining in the land depended on Israel's faithfulness to God's commandments, our eternal salvation depends upon our obedience.
Deuteronomy 5.22-24 — REVELATION
God reveals himself in his word so that we can know him and be his people through his covenant with us. "God speaks to man."
Psalm 119.105 — GUIDE
The word of God guides and directs us in daily life.
Jeremiah 9.23-24 — RELATIONSHIP
The purpose of God's revelation is for us to have a relationship with the Lord, which is more important than anything else.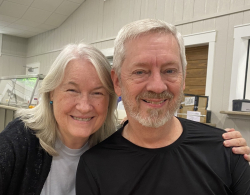 Latest posts by J. Randal Matheny
(see all)