After 20 years of blessing us with his articles here on Forthright, Mike Brooks is retiring from a weekly commitment. We are grateful for his insights and friendship. His column "Field Notes," often based on experiences in Nepal and Bangladesh, will remain online to bless new readers. Mike says he wrote 875 articles for his column. Most of those are in the archives, which still must be uploaded, again, to the internet and made available for search.
¶ I wish I were more of a counter of things, like Mike. It might give a greater sense of progress. But I'm not a numbers person. (I do try counting my blessings.) Also, I'm a forward-looking fellow. Never mind what's been done already. I don't often remember last week's message or class. By the time it's over, I'm focusing on what's next.
¶ Apparently, Paul's long sentence in Ephesians 1.3-12 (in the original language) is also in the form of a chiasmus. The center and focus of the mirror-image repetition? Verse 7: "In him we have redemption through his blood, the forgiveness of our offenses, according to the riches of his grace". A very fine verse to focus on.
¶ The Missus and I arrived in the USA last week and will pass through not a few states to visit some congregations and family members. We can't see everyone. Maybe the next time around. Spread out as they are across the country, the challenges are greater and the time, shorter.
¶ Many congregations we've not visited since before the Great Lockdown. We did not leave Brazil for three years because of restrictions. We're grateful all have continued their support.
¶ When this article comes online, we should be on the road, driving happily to the next destination. We're thankful to be able to move quickly and safely along our way in such comfort that people in previous ages could not even dream of.
¶ It appears some congregations have decided, after the Lockdown, not to return to having Sunday night meetings. Whether that will be a permanent tendency or not remains to be seen. Will such decisions contribute to spiritual and numerical growth, or hinder it?
¶ Quite worth your while to read friend Weylan Deaver's recent article, "Impressions from the Koran." He recently read it in its entirety. We're thankful for his perseverance and for bringing us the results of his reading.
¶ There was once a college professor who taught and tested by lists, so I'm told. As I reach a certain age bracket, I'm beginning to appreciate lists more, be they moral, practical, biblical, or otherwise.
¶ It's a date important now only to the Missus and me, but toward the end of November, we'll have been in Brazil for 39 years, much, much longer than we ever lived in the USA. To answer an oft-asked question, Brazil is home, but not because of time, rather because of decision. It became home in November of 1984.
¶ With time, gratitude grows, because the goodness of the Lord becomes ever more evident for those who have eyes to see it. His providence is no theory, but the long experience of those who work in his harvest. The Lord of the harvest is the Lord, too, of the reapers.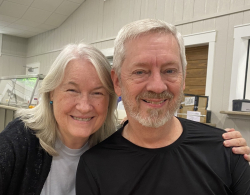 Latest posts by J. Randal Matheny
(see all)