Gracious God ─
Another day has begun, no movement, no sound, but in a little while urban life will agitate the streets and shops. In homes people are waking up to start another week of work, study or household chores.
And I, too, with this prayer my first movement, asking for your blessing, seeking your presence, knowing that time is short, feeling the urgency of the work, wanting to have spiritual fruit that remains for eternity.
I wake up, Father, in a moment of reflection, about where I have come over the years; of gratitude for being part of this great mission of the Lord Jesus; of analysis, how can I still do a better job; of evaluation, what to do now to be useful to the work of your Kingdom.
I want growth ─ in me, in them, outside and inside, in love and good works, in faith and in words. I want to reach the height of Christ, the holiness of the Spirit, at the feet of your throne. I want your peace, your promise, your love.
Help me, God Yahweh, to look outside, to forget about me, to be a man of courage, integrity, and love. Give me your wisdom, your word, your freedom to act with energy to rescue those who drown in the world.
Make me see.
Jesus saw, sees and will see. Amen.
Translated from the Portuguese.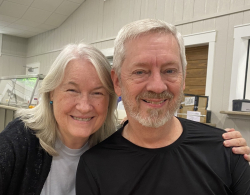 Latest posts by J. Randal Matheny
(see all)