¶ I like book, chapter, and verse. Is there any other way to go? What's not to like? Add in the context, and that approach will take us far.
¶ Critics there are of adhering closely to the sacred Text. It's their way of getting you to pay attention to them.
¶ The traditional structure of outlining lessons and sermons has proved a good one. You know the one: introduction, body (with major points), and conclusion. Can it be improved upon? I tried with these major divisions: connection, context, text, application, appeal. Try them out.
¶ Howard Norton was attentive to others and humble in his interactions. A few years ago he sent me an email:
"I am attaching an outline on sermon preparation that I scribbled out for a Brazilian brother some time back. I don't know if it's ever been published or if it should be published since it's just an outline and not a manuscript. You are welcome to use it or not use it as you see fit."
His "scribbled-out" outline was a fine work appropriate for inclusion in a volume we published on how to lead in worship.
¶ Methinks a prime example of the modern term "pro-active" is the old story of Abigail in 1 Samuel 25.
¶ Not a few religious quacks are imagining divine movements behind the events in Israel. (Or so I'm told, since I don't watch any of that stuff.) Would be better to see what the Scriptures say and what the Lord Jesus said specifically. But then their ratings and offerings would fall off.
¶ Loved the descriptions of the three occurrences of the word "Christian" in the New Testament:
Life as a Christian, Acts 11.26;
Becoming a Christian, Acts 26.28;
Suffering as a Christian, 1 Peter 4.16.
Now to remember where I read it.
¶ The Bible shows Israelites observing stipulated times of prayer throughout the day. At the beginning, at least, Christians who had been converted from Judaism also practiced them. Other than at mealtimes, do you do something similar throughout your day?
¶ Years ago, I started a series of evangelistic lessons based on God as Father. I found a print-out of one of the lessons recently, entitled "Why God Describes Himself As Father." Was not a bad job. Makes me want to pick that back up again. Anybody got a few extra hours to lend?
¶ In the Bible, the Spirit is in the details. Give 2 Timothy 3.10, for example, a close reading. My guess is that you have a chiasmus in there, pairing teaching with endurance, way of life with love, purpose with patience, and leaving faithfulness as the centerpiece. Works for me.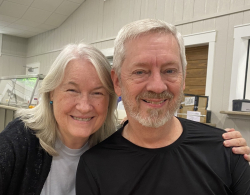 Latest posts by J. Randal Matheny
(see all)