Our only God of kindness …
The struggle against evil is constant, so we know your patience is so great, since we human beings get tired and discouraged when we look at the evil flood in the world and almost drown in it. Preserve us, O Sovereign, and keep our eyes on the Lord Jesus. He went to the end and rose from the dead with total victory. He will return to seek the faithful. I want to be in the middle of these. I want to fight the good fight and successfully finish the race.
May your words be my voice. May I speak only what is in the Holy Scriptures. I do not want to go beyond what is written or omit any useful words for people who listen to my teaching. As for opinions, let me keep quiet. As for human theologies and traditions, may I proclaim the simple truths of Christ.
You, Lord, deserve all the praise and worship of his people and all peoples. On this morning may our meeting please you, for uniting in the Spirit and in truth.
We do not know, Lord, about tomorrow, we have no idea what awaits us ahead. But we trust in you. May our life be worth nothing to us. What matters is to complete our journey and Christ's mission. May our dependence be on the Lord. May he announce the Good News of your grace through us.
Help me to declare everything the Lord Jesus wants others to know. It was you who called us to this work. May I be completely submissive to you.
Your church was bought at a great price, the blood of the Chosen One, of the only Son who became man and lived among us, who went through everything we went through, except to commit sin. He is our sacrifice, he who satisfies the demands of your anger, he who died so that we could live.
These facts are precious, this truth saves us, this story is ours, because we believe in it and in it we have redemption.
Give us courage, Holy Father, to announce the message of salvation to everyone, regardless of people's reactions. Because Jesus is humanity's only hope. May everyone hear and believe. Amen.
This prayer was translated from the Portuguese. It was posted this morning at this link.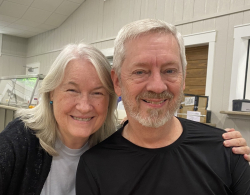 Latest posts by J. Randal Matheny
(see all)