This past weekend, all our websites suffered hacking and a major loss of content. It appears we can recover most or all of it, but it will take time. In the meantime, we continue on in our mission to encourage, motivate, inform, and edify.
We are working to diminish our risks from this happening again. Pray that we might find strong solutions.
While we are rebuilding, we decided to bring together our several sites. I wrote about this and the reasons behind it earlier in another place. Forthright Magazine, Believing Prayer, Fellowship Room, and others will probably be brought under a single domain, if we can pull it off.
All this happened at an opportune time. My brother Kevin, who is working at my side, is saving me headache and heartache. I'm grateful for the hours he has spent already in turning this bad situation around.
A couple of brothers observed that Satan opposes the people of God. We don't know that we were targeted because of our content. We do know that Satan will use all he can to discourage the saints. We also know that the Lord is able to make everything that happens to turn out for good for those who love him, Romans 8.28.
Because of this truth, we persevere. We will not be cowed. The goal remains clearly in view. Crowns await those who persevere, and we are determined to be among them.
Please share this article with your friends. We haven't gotten our subscriber emails back yet, but we have them in backup files — if it will work to import them.
There is much to do. Pray for us, that the evil one may not hinder this process and that the Lord may bless us to do an even greater work.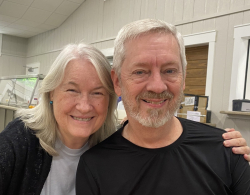 Latest posts by J. Randal Matheny
(see all)