In the wee hours of the night this prayer began to form. To keep from losing it, it was necessary to get up and finish it. The Missus was not amused.
For me, O Lord, my battles fight.
In darkness be my guiding light.
In a world where all is gray
And men have feet of clay,
To stumbling souls show what is right.
In the shifting sands be my solid rock.
When arrows fly, absorb their shock.
When blows of enemies fall,
Be tower and hardest wall;
My soft reply, when mockers mock.
Be righted ship when all is lost
And on the troubled sea I'm tossed.
Be my priest and sacrifice
For me, the ultimate price;
My coin to pay the awful cost.
O Lord, be star and moon and sun,
To mark my times and the seasons' run.
Be hope for tomorrow's dawn,
My strength when vigor is gone.
Be life for me when my day is done.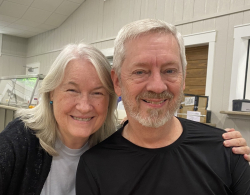 Latest posts by J. Randal Matheny
(see all)