You may hear the old tune in the back of your mind. That's good!
Take time to be thoughtful,
Each day in the Word;
Delve deeply to study
The mind of the Lord.
The truths of the gospel,
Such riches they hold!
More precious than silver
Or finest of gold!
Take time to be earnest,
In all things sincere,
With purest of motives,
Your purpose be clear.
All your supplications
To Heaven may fly.
In word or in action
The Lord glorify.
Take time to be loving,
Toward friends and your foes.
For all these in darkness
Christ died and arose.
His will is to save them,
From sin to forgive.
Like him, bear your burden,
That others might live.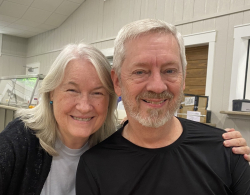 Latest posts by J. Randal Matheny
(see all)