When inventor Thomas Edison watched his laboratory burn to the ground, he supposedly commented that he was happy to be able to begin again from scratch. That attitude has reminded me over the past several days that God gives us many opportunities in the midst of trials, disasters, and suffering.
After losing our online content to hackers, we're building a searchable archive from backups with more than 30,000 articles and posts. And we're bringing our several sites all together under one domain. In a sense, we're starting over. And that's a good thing.
In 2014 we started over when we began a congregation in our home. This year, we started over by moving to a global approach, after emphasizing a local work for eight years. Being able to reboot can be a blessing, if done right, with confidence in God that he will bless every good effort.
Starting again can take into account lessons learned, principles applied, and truths reinforced. In recent years we've worked on such principles as the following, which I'm sharing with American congregations while in the U.S. this month.
1. Simplicity of the gospel
We complicate faith and life in general. The Preacher said, "See, this alone I found: God made human beings straightforward [plain and simple, GNT], but they search for many complications" Eccl 7.29 CEB. So we've sought to be simple in speech and method, to do only what can be reproduced by others.
That means no technical or theological language. We generally avoid Hebrew or Greek terms. Bible versions are chosen that are understandable. Our new hymnal highlights simple songs. The gospel was made to reach everyone. Why complicate the message for others?
2. Centrality of the Word
The Bible is the word of God, our model for faith and practice, God's power to save. That's why Paul told Timothy, "Until I come, give attention to the public reading of scripture, to exhortation, to teaching" 1Tm 4.13 NET. Different cultures and times do not diminish the need for the Word to be read, both publicly and in private, taught, and proclaimed.
As an example of this emphasis, in 2014 we began three Bible readings in our Sunday meetings independent of any other act of worship: one from the Old Testament, one from a selection from the four Gospels, another from Acts to Revelation. For all our access to Scripture today, few read systematically and consistently.
3. The initiative of God
God goes first. He acted when we were raising our fists against heaven. "We love because he loved us first" 1 John 4.19 NET. God sent Christ to die for us "while we were yet sinners", powerless, enemies of God, Romans 5.6, 8, 10. When we teach, from the very beginning, God should be at the forefront.
The five steps of salvation need to show how God speaks, acts, moves, and saves, before we get to our part. God's part must come first:
The word of God: hear and believe.
The glory of God: repent of sin.
The Son of God: confess his name.
The salvation of God: receive immersion.
The family of God: serve and love.
Following Jesus
The Lord spoke simply, worked without infrastructure, and discipled others personally. Jesus put Scripture squarely in the center of his ministry. He embodied the divine initiative in coming to earth. These principles above simply put into practice what Jesus did.
If you're interested in knowing more or in partnering with us in such a work, contact us here.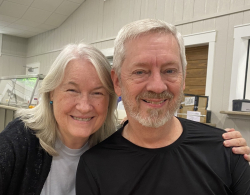 Latest posts by J. Randal Matheny
(see all)