This little outline, done in 2001, came out of a notebook I went through yesterday.
Text: Matthew 8.1-4, Jesus cures a paralytic.
Objective: To show that Jesus cares for every person.
Jesus is interested in the individual—in you, vv. 1-3.
Jesus wants to—and has the power to—purify your life, v. 3.
Jesus is concerned about your future, v. 4.
Conclusion: Get closer to Jesus! v. 2. (The leper "approached" Jesus.)
---
I often used to work from a minimal outline, like this one, because I've been teaching God's Word for so long that I have a sort of intuitive idea of ​​what I want to talk about and how to handle the text, as well as how to transition between parts and points.
In recent years, however, I have worked to make sketches more complete, in order to leave to others and to facilitate their use. But that the sketch above can serve as a message seed.
May this and other outlines and messages bless you and those you hear.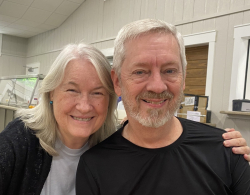 Latest posts by J. Randal Matheny
(see all)